Secondary Curriculum

Contemporary World
Teaching and Learning Tools (CW)
Evaluation Strategies (LEARN & Partners)
PACC Adult Education Evaluation Support materials
Teachers Matthew Taddeo and John Mackett, working alongside Pedagogical Consultant Shiela Sachdeva, have produced a series of sample questions and a complete review test with curated documents. These tools effectively support the intellectual operations for the Adult Contemporary World 1 course (Environment Population, Wealth). Their working Google Doc folder is available now! Go to site
Learning Situations (LEARN & Partners)
Tensions & Conflicts - Rwandan Genocide Learning Intentions document collection
A working set of documents and other curated resources in support of program-specific learning intentions (targetted knowledge in the precisions). Also, this collection uses three Model Teaching strategies suggested in the MEES C.W. training sessions in 2018.
To access working Google Document: Go to site
Tensions & Conflict: The Rwandan Genocide through graphic novels and interviews
An examination of history through media, using interviews and video testimonials of survivors, and through use of the graphic novel Smile Through the Tears.
Teacher's Guide Word doc: Download
PDF version: Download

Student Booklet Word doc: Download
PDF version: Download
Wealth: Distribution of Wealth and Emerging Economies
(Balancing social justice with economic development)
An approach that looks at poverty and economic disparity around the world, examines causes and reflects on our own role as consumers. Students look at products we use in everyday life, media representations of those products, and consider real responses from youth in the emerging economies where those products are produced. Archive of older Google Doc version: Download
Power: The sovereignty of states and economic or political associations
The case of Turkey and the European Union
LES that examines economic and political associations. Focus on European Union, history and issues in general, then interpretation specifically around the entry application of Turkey to join the EU. Link to archived Google Doc version: Go to site
Tensions and Conflict: Behind and Beyond the Oil Barrel
LES on the theme Tension and Conflict, focussing on present-day issues surrounding oil production and related foreign interventions.
Student Logbook PDF: Download
Teacher's Guide: Download
LEARN Web-based tools
Cartograf Mapping and Drawing Application
LEARN-RECITUS open-source, interactive web-based mapping and drawing application. It allows students and teachers to create and share maps, collect and analyze images, and work collaboratively on class projects! Go to page
LESSONS ONLINE RELATED TO C.W.
Making Sense of World Conflicts
Teach about war and conflict using this free resource for teachers Oxfam.
https://www.oxfam.org.uk/education/resources/making-sense-of-world-conflicts
Teaching Divided Histories - International Conflict from Schools Online.
five lessons that describe and summarise conflicts that have taken place in Northern Ireland, India, Lebanon, Sierra Leone and South Africa https://schoolsonline.britishcouncil.org/classroom-resources/list/teaching-divided-histories-international-conflict
Section under construction.
Send lessons you have found or made for CW to prombough@learnquebec.ca
Curated Resources: Key Sites, Maps & Video Collections
GENERAL REFERENCE AND EDUCATIONAL SITES
RECITUS Monde contemporain resources
Visit the main RECITUS resources section to search for Contemporary World resources in French Go to site
Taking it Global
A resource site and community action platform that also contains theme-related search abilities and "action tools" related to various global issues. Go to site
ENVIRONMENT
Food and Agriculture Organization of the United Nations Go to site
Environment & Society Portal by @env_and_society
Gateway to open access resources on the human-environment relationship.

CONFLICT AND TENSIONS
List of ongoing armed conflicts on Wikipedia
Identifying present-day conflicts and the death toll associated with each conflict. Go to site
Amnesty International
Well-known human rights organization. View also their country by country listings for various issues and conflicts. Go to site
MULTIMEDIA

Daniel Rouillard's Monde contemporain class videos
Here's a teacher really putting in some hard (and fun!) work for his students. Check out his Contemporary World videos here !
Emilie Bowles' amazing Youtube Playlists!
FGA RECIT Consultant, Ms. Bowles has collected many videos that also align with the Secondary Contemporary World course content areas:
Environment | Population | Wealth | Power | Tension & Conflict
UN Audiovisual Library
Main site here for Archives, current and live videos. But check out their search tool!

Universal Declaration of Human Rights Multilingual Video Collection
Search by "Article number" Go to site
Collection
Environmental Film Profiles (videos) from Environment & Social Portal
Video content on multiple facets of the environment-society relationship Go to site
TED talks Topics: Example on Environment:
A collection of TED Talks (and more) on the topic of Environment. Go to site

Or just browse all topics here!
CNN Videos
Still a good place for brief videos of events around the world Go to site
BBC Video Headlines
Video section of headlines of world news Go to site
AP Archives (Associated Press Youtube archives)
View AP Archive's videos via this channel – the collection offers 1.7 million global news and entertainment video stories, which date back to 1895 Go to site
CURIO.ca - A few relevant video collections
Environment: Reduce, Reuse & Rethink | 1000 Days for the Planet | Human Impact on the Environment | Arctic Meltdown |
Conflict and Tensions: War and Peacekeeping
MAPS AND STATS, ETC.
Global Conflict Tracker by
Great reference for current conflicts around the world. Go to site
Environmental Justice Atlas
A teaching, networking and advocacy resource, database, to learn more about the often invisible conflicts taking place. Go to site
Gapminder
Videos and an app for generating statistical representations of world issues and realities over time. Note also the teacher section for older resources. Go to site
Worldmapper
A collection of world maps called cartograms, where territories are re-sized on each map according to the subject of interest. Go to site
MapsNWorld site
Older site but still some useful visual representations according to different issues. Ex. World Environmental Issues map and World Climate change. Go to site
Views of the world
Blog with resources and maps with different perspectives for thinking about world issues. Go to site
Aqueduct
Measuring and Mapping Water Risk Go to site
Center for Systemic Peace, conflicts tables
Older data you might want to verify elsewhere. Conflict trends page has graphics: Go to site
Global Conflict Risk Index
"an index of the statistical risk of violent conflict in the next 1-4 years and is exclusively based on quantitative indicators from open sources." Go to site
Professional Learning in Social Sciences
UDL in a Social Sciences Context:
Resources and Challenges in a Digital Age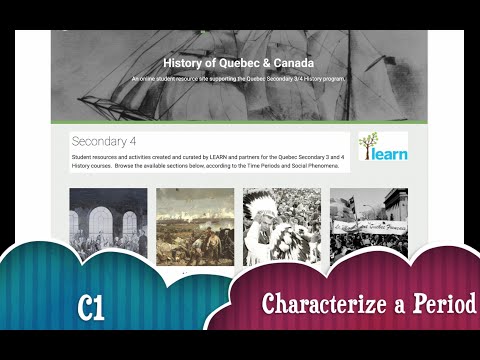 Thinking about how you might adjust your History content and practices for all learning styles and experiences? LEARN online resources, in line with the secondary and new adult education history courses, can help you engage your students, explore, use and also interpret events for a variety of situations. Recently I shared a presentation on new templates structured around UDL with some teachers at the ACE Online summit. A video presentation on the First part on Engage is available at https://youtu.be/p5uS6IxKjfk
Social Sciences Online and in a Digital Age

Follow along as new learning scenario examples are added throughout the year. You will find tips, tricks and tools to help you teach online and in a digital age, using LEARN's various resources, in response to the QEP program's approaches and according to an inquiry learning model. Visit the Secondary version
Visit the Elementary Version
(Note too that in 2020 Paul Rombough also presented these strategies in an information online session available here.)
LEARN Blog entries for Social Sciences teachers
The LEARN blog is full of fascinating articles, all of which can contribute to your development as a teacher... and they are fun to read! Here are a few especially for us Social Sciences folk:
Learning in Place: Working towards a local history learning toolkit Go to page
Native-Land.ca - First Stop on a Journey Through Territory & Time Go to page
Teachers as Cultural Facilitators in the Social Sciences Go to page
Beginners No More: Social Sciences Online in a Digital Age Go to page
Podcasts for Professional Development Go to page
Feedback Street: Formative Assessment in History. Go to page
Flipped History: A new approach for a new curriculum. Go to page
History of Quebec and Canada – Planning for a new curriculum. Go to page
Rapping Across the Curriculum. Go to page
A Time and a Place for Elsewhere: The Role of Context... Go to page
Geolocalize it: The global context of everything. Go to page
iPadding… upstream! How do you manage it? Go to page
3 a.m. blogging, and why social sciences should be social, & public! Go to page
Cartograf: Taking time for power mapping. Go to page
Imagining a more meaningful and contributive future for education. Go to page
History, reality…. and parties. Go to page
Life stories in the classroom, and beyond! Go to page
Media and Podcasts in Social Sciences
After posting the excellent blog post by Matt Russell on Podcasts for Professional Development on the LEARN main blog, we started up a section dedicated to online media for PD for the Social Sciences teacher. Go to page
Learning Communities & Professional Associations
Various associations and groups allow SocSci teachers to communicate and share, and to develop as professional learners. Here is a list of few key groups:
Secondary 3 History Professional Community
Commununauté Histoire du Québec et du Canada. Go to site
Quebec Association of Geography Teachers and Global Educators Go to site
L'Association Québécoise pour la didactique de l'histoire-géographie. Go to site
Association québécoise pour l'enseignement en univers social. Go to site
Visit and join their Facebook page and group too! Go to site
Société des professeurs d'histoire du Québec. Go to site
Le groupe des responsables de l'univers social. Go to site
Our Presentation on Historical Thinking (Matt R and Paul R)
Matt R. (WQSB) and I (Paul R from LEARN) presented on HIstorical Thinking concepts and strategies at LCEEQ a few years back. Here are a few ideas and resources we presented: