Elementary

Elementary Social Sciences
Welcome to Elementary Social Sciences.
Browse the sections below to find program content, teaching strategies, and printable graphic organizers. Note that many links jump to our two main resource sites Cartograf and Societies & Territories. For other sections including Secondary resources visit the main Social Sciences welcome page here.
Parents and students, a new Social Sciences Help page is being developed here.
Teaching and Learning Tools
Cycle 1
Building My World

Building My World (BMW) offers inquiry paths for developing the Social Science competency in Cycle 1. This competency lays the foundation for more formal study later on. Designed as cross-disciplinary, BMW inquiry activities develop competencies from other subjects including ELA, FLS, Personal Development, Science and Technology, as well as the Arts. Download
Find my friends Game

Students try to find students that match with the game card (i.e. the role) that they choose. For every one they find, they get to keep that card. Once they collect a card, they may pick up another one, and begin again to search for someone to fill that new role. Thanks to LBPSB team for sharing this activity! English and French versions available: Go to site
Cycle 2 and 3 Resources and Strategies
Societies & Territories: An Elementary student content website!
The Societies and Territories web site is an English adaptation of the RECITUS Sociétés et Territoires. Texts and images are organized by society, and also to compare over time and in terms of diversity.
Teachers, will also find tools many tools and strategies stored here: Go to site
New: Establish Facts - Google Doc versions & RECITUS Badge Guides
This month a few of the society sections on the site have sprouted a new resource that allows students to use our vast resources and course content (texts, images, documents, etc.) to Establish Facts. Go to page
New: RECITUS Activities adapted in English
Five activities have been adapted for the English sector, including Concept and Use of Territory, Comparing Iroquoian and Algonquian societies, Timber trade and Industrialization: Go to page
All other Cycle 2 & 3 Teacher Strategies, Tools, and Approaches?
What abou the other eacher resources that include Games, SMARTBoard tools, The S & T Toolkit, Cartograf Mapping Scenarios, Image Banks, and much more... When you can't find it here it is likely in Teacher Strategies menu on the main Societies and Territories site. As well, when possible, we also try to list all our available Teacher resources on the main Learning Approaches page: Go to page
Cartograf Mapping Site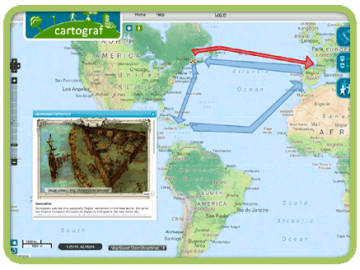 The updated LEARN-RECIT Cartograf site is now bilingual, containing instructions for student use and various sample mapping scenarios in both English and French! Notre nouveau site LEARN-RECIT Cartograf est maintenant bilingue et contient divers exemples de scénarios cartographiques en anglais et en français ! Go to the site


Or visit directly some of our English sample scenarios listed here:
Graphic Organizers storehouse
As mentioned above, various organizers are available via Teacher Strategies menu on the S & T site. However, where possible we also gather all our Graphic Organizers and organize them according to various Historical Thinking skills in the Secondary section here: Go to page
Evaluation Tools
Summary documents, icons, and graphics for Intellection Operations:

- Word Document with small icons for Evaluation of Learning: Download
See also Sophie Lussier of LBPSB's French version. Download
- Large printable I.O. icon versions: Download EN
Download FR
- A Poster produced originally by Hélène La Branche of the CSHC: Download
For RECITUS Badges and other great tools and strategies for evaluation, consider also visiting our main Evaluation Strategies and Tools section: Go to page
Professional Learning
LEARN Blog entries for Social Sciences teachers
The LEARN blog is full of fascinating articles, all of which can contribute to your development as a teacher... and they are fun to read! Here are a few especially for us Social Sciences folk:
ICT in Social Sciences
The RECIT and LEARN often promote the use of technology in the social sciences. Here are few examples:
iPads in Social Sciences (Archived from old site ) Go to site
Le RÉCIT de l'univers social offers various training sessions and site sections on technology use. Here are a few examples:
Media and Podcasts in Social Sciences
After posting the excellent blog post by Matt Russell on Podcasts for Professional Development on the LEARN main blog, we started up a section dedicated to online media for PD for the Social Sciences teacher. Go to page
Learning Communities & Professional Associations
Various associations and groups allow SocSci teachers to communicate and share, and to develop as professional learners. Here is a list of few key groups:
Secondary 3 History Professional Community/
Commununauté Histoire du Québec et du Canada. Go to site
Quebec Association of Geography Teachers and Global Educators Go to site
L'Association Québécoise pour la didactique de l'histoire-géographie. Go to site
Association québécoise pour l'enseignement en univers social. Go to site
Visit and join their Facebook page and group too! Go to site
Société des professeurs d'histoire du Québec. Go to site
Le groupe des responsables de l'univers social. Go to site
Contacts in Social Sciences
Paul Rombough


My main dossiers at LEARN include:
Social Sciences
Ethics and Religious Culture
Physical Education and Health
Education for Reconciliation
Sexuality Education
Ed4Rec
LEARN main contact page here